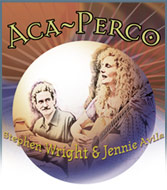 Aca~Perco
This collaborative effort by Stephen Wright and Jennie Avila offers a unique and perfect culmination of rhythm and rhyme, celebrating the harmony of acoustics, percussion and vocals. This collection of genres flows through themes of love, loss and meditation, brought to life by the synthesis of Jennie Avila's vocal talents and the captivating rhythm of Stephen Wright's hand-made drums.
Aca~Perco is available on CdBaby.com (credit card).
Click on the links below to hear clips from selected songs.
1. How Rich the Life

Copyright Jennie Avila 2007

4:21
2. Malaguena Salerosa

(Traditional)

Copyright Jennie Avila 2007

3:54
3. Downsville

Copyright Jennie Avila 2007

3:38
4. Man in Maryland

Copyright Jennie Avila 2007

3:46
5. Keeper of the Bones

Copyright Jennie Avila 2007

7:12
6. On the Longest Night

Copyright Jennie Avila 2007

4:24
7. The Wheel Spins Round

(Free Download)

Copyright Jennie Avila 2007

4:27
8. Don't Go Over There #1

Copyright Jennie Avila 2007

3:48
9. Don't Go Over There #2

Copyright Jennie Avila 2007

3:43